Camo? Yes You CAN!
Monday, January 14, 2013
Hello lovelies, hope you had a great weekend!

I'm sure you have seen that camo made its way back into the scene, from jackets to pants, shoes and even bags. I myself am a fan of it, I just think of it as a "Neutral" as I would with Leopard or Stripes.
I put together some ideas of how I would wear CAMOUFLAGE.
If you have been wondering how to wear the trend without looking like you just got recruited, you're in the right place!
The Skinny Jeans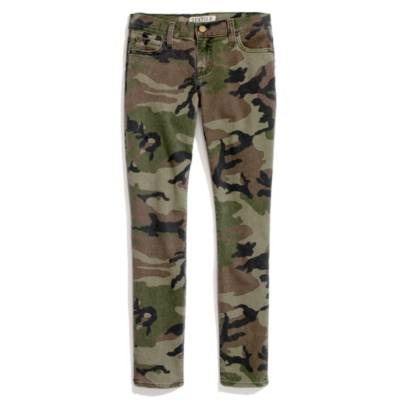 I started with the skinny jean because its the easiest to style. You can wear any top with a blazer and the right pair of heels and you will have an amazing outfit. Switch out the blazer and heels for a cardi and boots and you'll have a comfortable trendy outfit.
Here I chose a black off the shoulder sweater paired with a bold shoe for a fun look. If you don't like yellow you can opt for red, or pink which also compliments the camo print. The black accessories kept the look simple allowing for the wedged shoes to pop. You can also try metallic, (preferably gold) shoes and swap the sweater out for a cute top for a night out!
These are by Elizabeth and James and can be found

here
When I saw this shirt I fell in love right away. I love the riveted pocket details, I think it gives it edge and attitude. It buttons down the front and has buttoned cuffs as well.
This shirt is very versatile. It can be worn with jeans, skirts, dresses, and leggings. The possibilities are endless.
If I owned this shirt, this is how I would wear it...
I think this look is very chic. The leathered pencil skirt and booties give it sophistication. Here I added a red bag, to make it more interesting. The dangling chain earrings contribute to the edginess of the shirt.
This shirt can be purchased at ROMWE
I really need to add this shirt to my wardrobe, it would definitely be a staple piece.
Ahh, the infamous Camo Jacket!
Camouflage jackets have been all over since fall began and its still a #musthave.
What I like about this one are the cone studded details on the shoulders and zippered pockets in the front. I think these details make it a little more feminine.
Here I went with a more casual look. A pair of slightly ripped denim, a lightweight sweater, and these super femine combat boots with a ruffle detail by Betsey Johnson I completed the look with this Louis Vuitton Azur Canvas bag for a contradicting pattern, because Yes You CAN mix prints! ....And I thought it was a great pairing with the boots ;)
This would be a perfect outfit for those warmer days and for the transition from winter to spring. Its laid back with edge and femininity. What better way to complete this outfit than with Sequin Trimmed Round Glasses.
I would like to hear from you, please leave a comment! XO